You know things are getting good for digital game sales when 8 million people are caught browsing for them at the same time. The Steam Summer Sale, held across the world's largest digital game distribution network, spanned 11 days, discounts of upto 90% off and apparently said 8 million people buying stuff at the same time.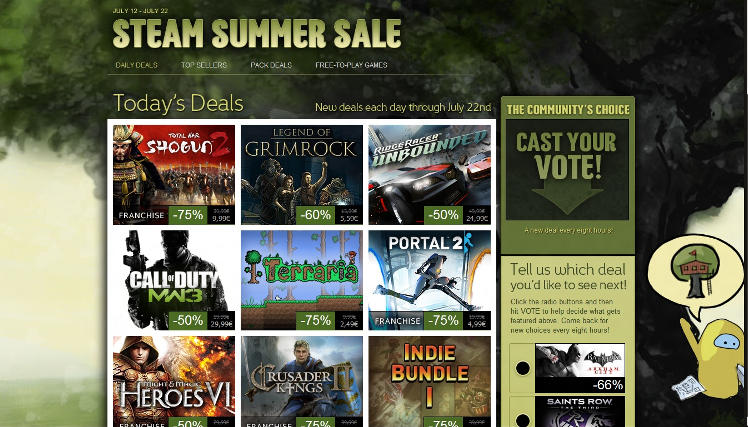 It's quite remarkable how Steam, Valve's digital distribution platform, not only was the biggest step towards making brick-and-mortar game disc stores gradually obsolete, but has also been clocking record financial stats year in and year out.
Steam's sales have a success triangle. There are three major forces in the game – users, games and discounts. In addition to the usual prices, the Summer sale brings new discounts every day, Flash Deals – shorts-time deals updating throughout a day and Community Choice Deals, which are deals based on users' votes. In this manner, Valve cycles through both new and old titles, relying on a consumer sale mentality that has hordes of people buying stuff simply because there's an epic discount on it. Add up the numbers and the money stats rolling in. And since it's digital, a sale doesn't hurt anyone – there's no physical overhead involved.
This year, Steam introduced a new interaction called "Summer Adventure". Imagine going to a sales camp; you are tagged-up with a team who work to bring victory. In this case, the top 30 members of the winning team receive 3 games from their Wishlist (a journal of sorts logging the games they wish they owned)! They've also added another layer of gamification: you also get other fancy collectables and games by collecting items and crafting badges with them. Essentially, they've turned the art of selling something to a consumer into a giant, global game with massive deals in the background. E-commerce done right.