hSenid Mobile kicked off the first of the pre-TADHack sessions yesterday at the Dialog Future World Auditorium. Now, we've spoken about the upcoming TADHack here, so let's not beat around the bush: these sessions, leading up to the actual event, are intended to familiarize participants with what exactly they need to be doing. hSenid Mobile and the Ideamart crew have gone the extra mile and dropped a lot of expertise into coaching devs, which we honestly think is a fantastic move: we've seen way too many poor pitches and half-baked ideas during these past few weeks.
Yesterday's session was essentially a primer to getting into TADHack. It was quite a stormy day, so for those who missed out: you start by heading over to http://tadhack.com/2014/register-hackathon/. Go get your team registered. Remember, this is a satellite event for the global TADHack, so make sure you select "TADHack Satellite – Sri Lanka" in the "Registering for" section.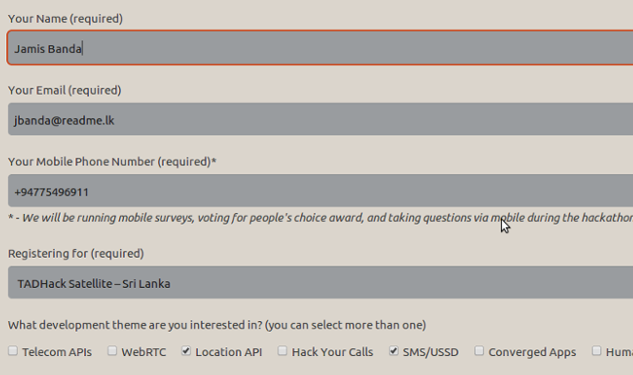 TADHack Sri Lanka starts around 4 PM on the 6th. In true hackathon fashion, it goes on past evening on the 7th  – so bring your toothbrushes, laptops, chargers, phones and plush toys for moral support to the Dialog Future World Auditiorium. You can find the detailed breakdown of the day here. Food will, of course, be provided. As for resources, there's both the Dev Space forum and the Ideamart forums. hSenid Mobile's also got the Dev Kit FAQs and Demo Apps up here. But remember, a hackathon is not just about coding. It's also about presentation. At the end of your coding session. you' ll be given five minutes to make pitch. We've seen a lot of hackathons over this past month, and we've seen a lot of terrible pitches. Our advice: practice your pitch. Your pitch will be sent to international audiences – this is not the time for a fail PowerPoint. You have five minutes to sell your idea – don't make your Powerpoints at the last moment.
You'll need to touch on certain points in the pitch. Firstly, introduce yourself. Keep it as small as possible. Identify the gap or the problem that you're facing. Then pull out the research and findings on the problem. Here you might also want to show what other appllications are addressing this and why they're inadequate. Next, the concept of the solution and how it operates. lastly, monetization. Keep this to an ideal five slides and make sure all of these are addressed. In fact, here's a bloody excellent pitch from DollarShaveClub.com. You don't need to go that far with the language, but being that good really helps. If they could sell razor blades, you can sell your killer app. Also, in case you didn't know: the second meetup is going to be on the 29th of May, 5-7 PM, and you really, really should have your application ready. It can be a brilliant idea, and you can develop it within the next 5 days, but by that time you should have your team up and ready to roll with a basic version of the app. The third seminar, later down the road, will be on mashup applications and the fourth will help you figure out your monetization scheme. They also have a series of webinars being hosted – check out Dev Space for the run times. Don't miss out.  Good luck and happy hacking! Here's the slides for the main how-to presentation aired at the first meetup. They outline the process flow of getting into TADHack, among other things: