You've lost your smartphone. The hub that connects you to your online life – and friends – is gone forever. Your options are to panic, panic again – or, if you're smart enough to follow the advice below, you can just click around and use the power of everyday tech to get that phone back. Welcome to phone tracking 101.
Keep calm and install  Android Device Manager
First, head over to the Google Play Store, and download and install Android Device Manager. This app, developed by Google Inc., is the official and easy-to-use tool to track your Android phone or tablet. If your device is connected to your Google account, turned on and connected to the internet, you're in luck. Because in addition to tracking your device down to an accuracy of about 7-10 meters, ADM also allows the user to ring the phone for a full 5 minutes in order to locate it (akin to the "follow the sound of my voice" scenario) – and in dire circumstances, you you lock the phone to prevent unauthorized use and wipe all date off the device. Sweet, eh?
What do you need? Well, for starters, your device has to be connected to the 'net. You also need a laptop. Head over to www.google.com/android/devicemanager and watch the magic happen. If you don't have a laptop handy, you'll need another Android device with ADM on it.  If on your friend's phone, uou install the app, sign in via the guest mode and tap in your Google account credentials. From that point onwards, like the in browser version of ADM, you are now able to track your lost device, let it ring or wipe its data.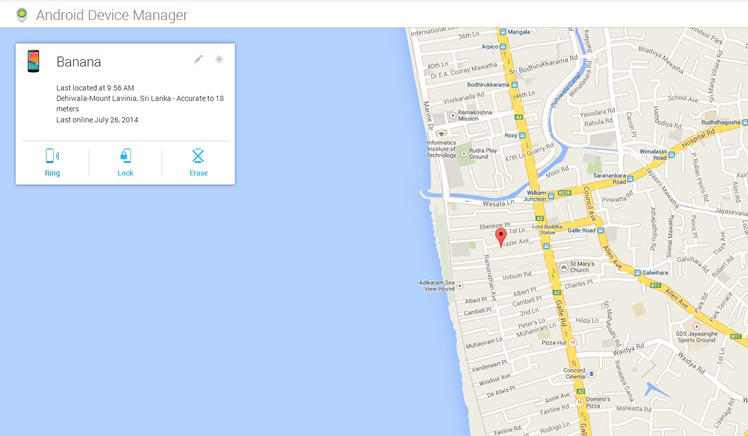 Dude, Where's My Droid?
Another useful app for locating your missing or presumed lost Android smartphone is aptly titled "Where's My Droid". This is useful app available either as a trial or an in app purchase of $ 4 (approximately Rs 530). It offers similar functionality to ADM with a few extra add-ons. For example, it will give you an alert via email when your device's battery is low – along with its location via GPS. It can also use passcode protection to prevent unauthorized app changes and it'll give you notifications of when SIM cards or phone numbers are changed. It also includes a Stealth Mode which hides incoming text with a key word that can be configured in the app's settings area.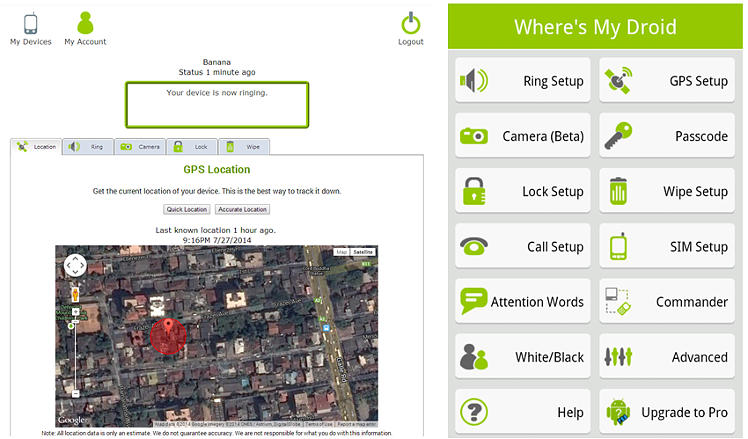 Additionally, in the Pro version, you can even use your Android device's own camera to take pictures (if your phone was nicked, this can turn out useful for capturing the face of the thief). You can also wipe your device and even prevent the host app from being uninstalled. Take that, thief.
All of this is done via the desktop interface, called Commander, a web based interface that you can use to control the app installed on your android device. You'll first need to create an account to sign in and use all the features of the app.
The Pros are here – Avast Mobile Security
For those of you in the PC industry Czech company AVAST Software will ring a bell. They've been providing anti-virus solutions for PCs for at least 15 years and they also expanded into the Android niche
Avast is great. Not only do you get a program for protecting your phone from viruses, malware, and spyware, but you also get a tracking system. Avast has the basic remote lock, wipe, and alarm features. You can also use it to remotely locate the phone with GPS. It also includes the ability to send a notification the moment someone changes the SIM card in your Android device.
The app comes in two variants; a free version that allows the user to protect device from viruses and other icky baddies and do the basic locate-and-lock stuff. For a package of $2 (Rs 260), users can unlock the premium features – stuff like remotely locking apps, locking the password after three wrong guesses, remote camera usage, backup features and remotely sending texts from the phone with your computer.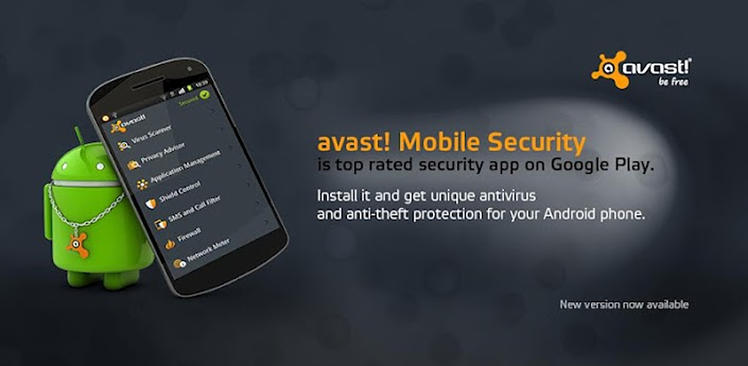 Well there you go. We've put together a list of the preferred apps that you should keep installed on your Android device in case you misplace it or it gets stolen (gasp). Bu do remember:
Software can only take you so far when it comes to you and your personal information. Always keep your wits about you and be aware of your surroundings. Also, as with anything, use protection; ensure you have a proper security lock for your Android device. Also, keep a backup of all your vital data that is on your Android device so that even if you have to wipe it, your data is safely backed up.
The least you can do is croak "My Precious" like Gollum and wipe the data so that nobody else enjoys it.
Note: If you want to report a theft of a mobile device, please contact your nearest local law enforcement division and lodge a complaint with them stating the model of the device and its IMEI (International Mobile Station Equipment Identity) number. This ensures that the device can be tracked by the TRCSL (Telecommunications Regulatory Commission of Sri Lanka) the moment the device is switched on.