March is by far the Month (that entails the most amount) of abstinence. There's Lent, Earth Hour (this Saturday!) and a recent read this month tells us that staying away from your phone would give kids around the world clean water. Fancy much?
Leaving aside all preconceived notions of transparency and accountability of Non-Governmental Organisations, let's take a look at what UNICEF shows us on their very pretty and blue (obviously!) HTML 5 website hyperlinked above. The site in question starts by challenging you, saying that millions of kids are going without water: how long can you go without something (apparently) non-trivial as, say, your phone? For every minute you abstain, both Armani and UNICEF will donate $0.025 to the cause. For those up for the challenge, ten minutes of non-phone usage would mean clean water for one day.
Game on.  Head over to UNICEFTapProject.org. The moment you begin, you're asked to keep your phone steady (we assume it taps into your accelerometer).  Once it's steady, the very watery site begins. Ten minutes is nothing to us to most of us:  you could switch this on when driving on one of the many expressways (and there is not enough traffic breaks to text); cooking / cleaning / doing laundry / feeding a child / or whatever else where your hands are bound to get dirty, taking a shower (if you own a non-waterproof phone that is) or even if you are studying and you try to dare yourself to not tweet about not studying. The site does feed you some stats from time to time – for example, the fact that some person has donated 204 minutes today.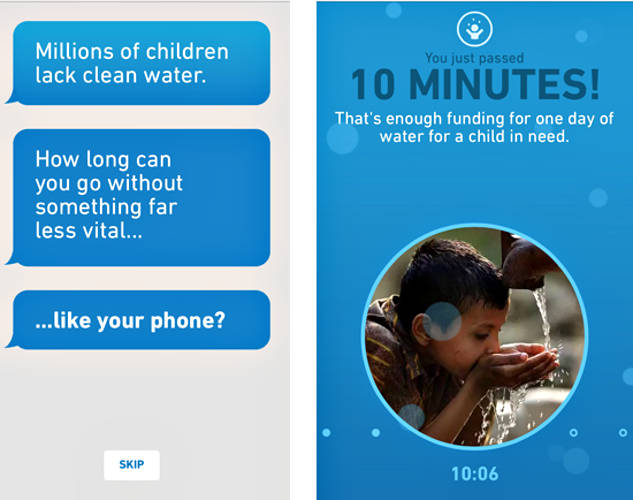 This is actually slightly more practical than the previous Armani bout – where you bought perfume and they donated $1 to Further, if you think Armani and such are not donating enough, you could even donate money on your own from your monthly online shopping quota: donations start from $5 – that provides clean water for a child for 200 days.

Who's behind this project? Giorgio Armani Fragrances (as mentioned) and UNICEF Next Generation, "a diverse group of young professionals, aged 21 to 40, who share a commitment to UNICEF's future." While we doubt 40 counts as a young professional, it's great to see such forward-thinking projects in place. 
The UNICEF Tap project ends March 31st, so do donate while you can.