Xiaomi's very new to the phone market. And, as far as Sri Lanka is concerned, they're still more of a midrange novelty than a brand that your uncle would recognize.
That's not the case in India, where Xiaomi Mi 3s have been selling faster than hotcakes. In fact, since Xiaomi launched in India, six batches of 20,000 phones have disappeared in just seconds, leaving hundreds of thousands of hungry fans in the dust – and a whole lot of hate mail for Xiaomi.
Now, they're launched a new device: the Xiaomi Redmi 1S. An entry level smartphone costing a little under 6000 INR (that's almost 13,000 Sri Lankan rupees), the 1S has been very favorably received by reviewers in India. It packs a Snapdragon 400, an 8-MP camera on the back, a 2,000 mAH battery, a 4.7-inch 720p screen and dual-sim functionality –  some seriously specs impressive considering the price.
Needless to say, it had some 200,000 buyers queuing up for a chance to buy it. Chances are high that we might spot this in Sri Lanka quite soon. It's certainly a killer package.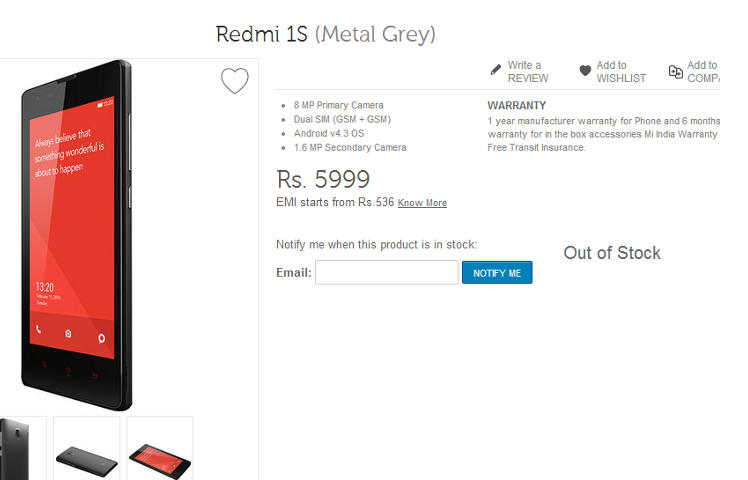 The Chinese manufacturer has played their cards quite close to the chest; their strategy thus far has to been release their devices in small numbers, testing the waters, selling the units almost at cost without the massive marketing that consumers usually get from phone manufacturers.
Lacking the massive heft of brands like Samsung, Xiaomi's strategy seems to be pretty logical – when it comes to small numbers. Unfortunately, India, with its insatiable demand and angry, vocal mass of spurned consumers, isn't taking too kindly to the treatment.