The Yarl Geek Challenge is back! This venerable event is one of the oldest meeting collisions between investors, competition and pitching opportunity. The entrepreneurial minded get team up, build a prototype of their product or solution and pitch in front of investors, and during the course of the program they will be mentored and guided by technical experts, entrepreneurs, academics and angel investors.
Here's the timeline:
Introductory Session – 20th September from 1 PM, Jaffna
Closing date for Applications – 30th September 
Hackathon and selections rounds (Senior)  – 31st October, 1st November and 2nd November, Jaffna
Hackathon and judging (Junior) – 31st October and 1st November, Jaffna
Yarl Geek Challenge Finale – 22nd November, Colombo
The winning team will be funded for Rs 1 million Blue Ocean Ventures, who are the funding partners behind most of the hackathons we've seen to date. Further funding will be made available via BOV and LAN (Lanka Angel Networks) after evaluating each start up. Unlike most hackathons, there's also a parallel event for younger entrepreneurs – the Junior segments.
Up first is the introductory session, which will be held on the 20th of September at 1 pm at the Thiyahie Charitable Trust Hall, Jaffna.  Five speakers will make the trip North to talk on the aspects of setting up a business and making it profitable. It's a free session – and if you can make the journey, should contain a wealth of advice for any budding startups.
The list below has quite a lot of variety – from serial entrepreneurs and venture capitalists to some of the people behind the new wave of successful online startups in Sri Lanka.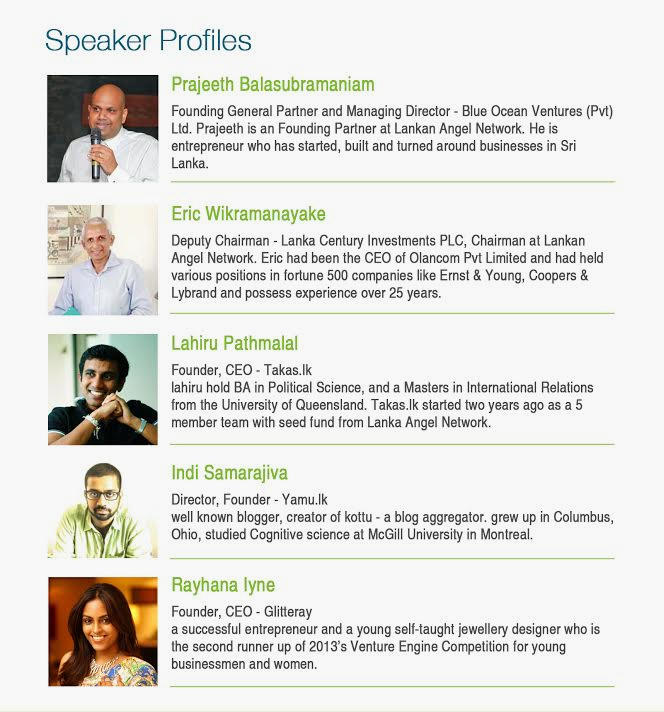 If you're unable to make it, fear not: we'll be bringing you the information as it's dished out. For more details on the competition, keep an eye on yarlithub.org/ygc/